---
Home | About | FAQ | Reviews | Search
---
Anatomy of First Aid: A Case Study Approach
Closing Cuts of the Skin and Underlying Tissues
Ronald Bergman, Ph.D.
Peer Review Status: Internally Peer Reviewed
---
Minor or even deep wounds to the skin and underlying tissues can be closed by using Butterfly tape or by suturing. Taping or suturing should be done when the wound is large, clean and non-jagged. Wounds of the chest and abdomen will be considered later in this booklet.
Do not close a wound if the area of the wound is dirty (contaminated), is very deep (into fatty fascia or even deeper, into muscle), or is over 12 hours old. Bleeding is to be controlled, by pressure or by tourniquet if necessary. If the wound cannot be closed, tape a sterile or clean, moistened bandage over the entire wound and seek medical assistance immediately.
Things to remember: Skin thickness varies. It is thinnest over the eyelids and face and thickest on the palms of the hand and soles of the feet, the back and scalp. It is usually thinner over ventral (anterior) surfaces and in older people.
Bringing the edges of the skin together by suturing will be shown.
First review the anatomy of the skin and underlying tissues of the limbs in the following illustration: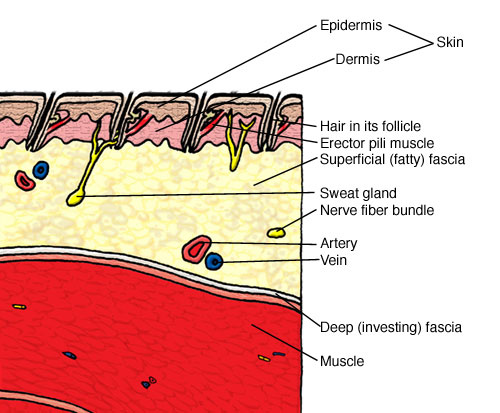 All contents copyright © 1995-2017 the Author(s) and Michael P. D'Alessandro, M.D. All rights reserved.
"Anatomy Atlases", the Anatomy Atlases logo, and "A digital library of anatomy information" are all Trademarks of Michael P. D'Alessandro, M.D.
Anatomy Atlases is funded in whole by Michael P. D'Alessandro, M.D. Advertising is not accepted.
Your personal information remains confidential and is not sold, leased, or given to any third party be they reliable or not.
The information contained in Anatomy Atlases is not a substitute for the medical care and advice of your physician. There may be variations in treatment that your physician may recommend based on individual facts and circumstances.